Sometimes your career can lead you to your own venture. That's what happened to Laurie Marshall when she left her corporate job. Laurie had first worked as in-house Trademark Counsel for Major League Baseball. After ten years, Laurie wanted to focus more on her family and left to work part-time at a law firm that represents the MLB clubs. A few years later, the law firm had to cut part-timers when the economy went south and this was the perfect time for Laurie to take a break.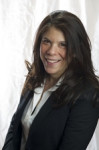 Howwever, a couple of weeks later, in labor and on the way to the hospital to deliver her second child, Laurie got a call from a team asking, "Can you still handle trademark work for us?" This was her entre into working for herself.
This one MLB club grew to over a dozen clubs, but she still needed to expand her client base further to make her firm viable. With so many people starting their own businesses, friends, and friends of friends, began to ask Laurie to do trademark work for them. She saw a niche being formed around her specialty.
"I wasn't quite sure how to model my business, but I saw a need from startups. I decided to offer a flat-fee for getting a trademark, including, searching the federal and state trademark data base, giving a legal opinion, preparing a trademark application and handling any non-substantive objections with the trademark office."
"Some startups and small businesses want a quick turn around, and I can make it happen." Laurie  and her firm Trade Marks the Spot is here to help.
Contact:  https://www.venturemompinkbook.com/listing/trade-marks-the-spot-marshall-law-group/